Try our mobile version of the configurator
Install Intiaro app for free on your phone or tablet,
find any product with an icon and see
how simple configuration can be.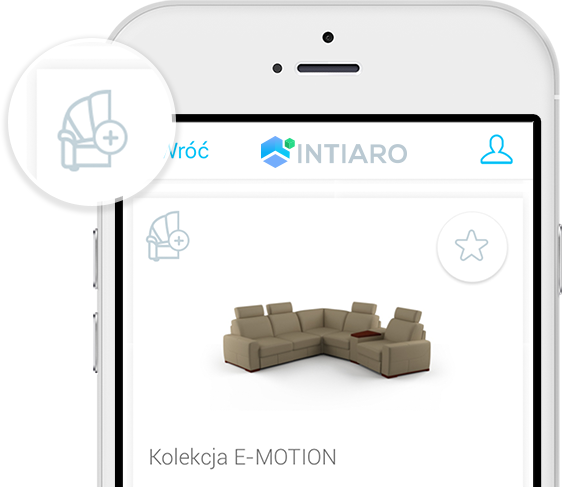 Product Features
Learn more about Intiaro
"Lego style"configuration
Simple and intuitive construction and configuration of furniture and other products
Generate specification of custom configuration
Your customers can generate a configuration list for any custom product, they can even send it via email to themselves or to your sales staff for pricing
Visualization within clients interior
Your client can see custom created configurations in their interior
Find out what Intiaro will do for you
Select and configure your own shape, material and color, accessories or any other features of your product
Excellent quality, real time 3D visualizations
Configuration logic in accordance with the specifics of your product and its manufacturing process
Eliminate the possibility of configuring a product impossible to manufacture
Real time calculation of total configuration price
Present and visualize the functionality of the product (eg. Sleep function)
Show all available materials and colors with a zoom and texture detail view
Display a list of nearest stores where the product can be purchased
Link to a website with all additional information about the product
Dynamic virtual tape measure - allowing the customer to check the dimensions of a configurable product as it is being created
Integrate with manufacturer or distributor
Available for mobile devices (phones, tablets with Android or iOS systems) and on the web
Benefits
For your company
Higher and fastersales
Visualization of configurable furniture increases chances of customers making a purchase and accelerate their purchasing decision
Less mistakes and returns
Less errors during configuration - both for clients and your sales staff
Increased customer satisfaction
No more unpleasant surprises. The customer sees and knows what they are buying, and whether custom product will be suitable for the intended interior.
What can Intiaro do for you
Increase up-sale of configurable elements and accessories. Customers using the configurator typically spend more on their purchase.
Easy-to-use configurator means less expenditure on training sales staff and introducing new product lines
Simplified process of creating and fulfilling an order with the ability of sending specifications created in the configurator – smaller chance for errors when compared to traditional written specifications.
Stand above your competition, with a modern pro-client brand image